NEM First to receive a concept certificate from TÜV SÜD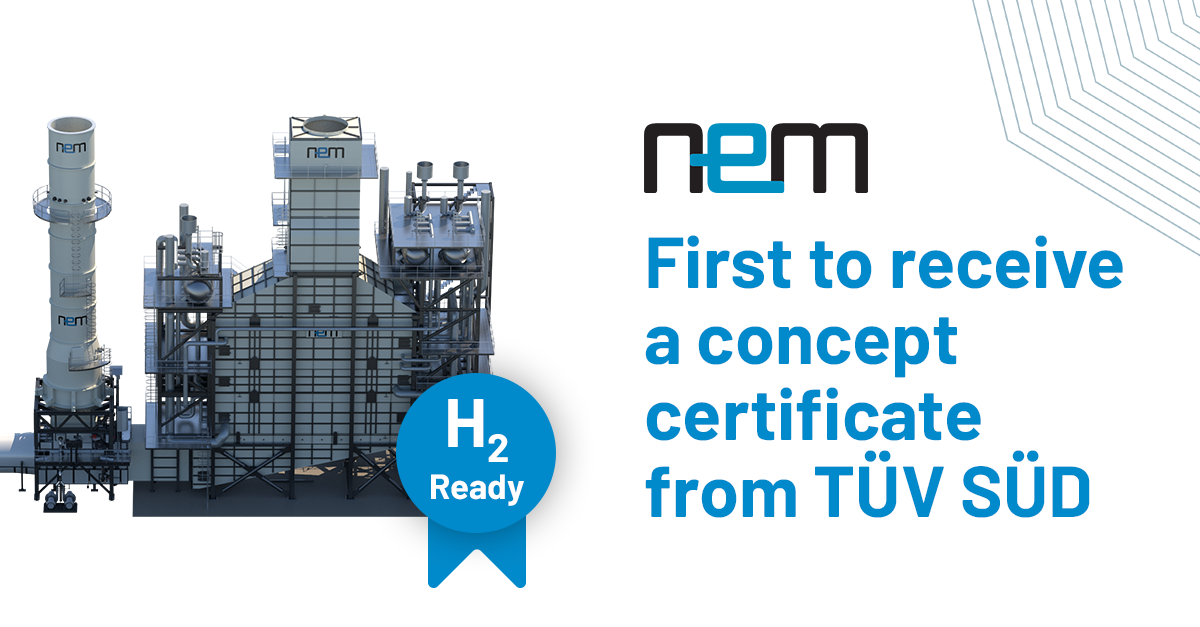 | | |
| --- | --- |
| | |
| Independent certification of "H2-Readiness" | 2. November 2023 |
NEM is the first manufacturer to receive a concept certificate from TÜV SÜD for the H2-Readiness of heat recovery steam generators
Munich, Germany / Zoeterwoude, Netherlands. TÜV SÜD has developed a guideline for defining the H2-Readiness of power plants and power plant equipment and offers an independent third-party certification for OEMs and EPCs. NEM is the first provider worldwide to receive a concept certificate for its H2-Readiness concept for heat recovery steam generators and waste heat recovery units, including complementary equipment such as bypass stacks.
Hydrogen can play a central role in the decarbonization of energy systems. In particular, natural gas-fired combined cycle power plants (CCPP) currently being built or planned are also expected to run partially or fully on hydrogen fuel in the future. This means that CCPP developers and operators will expect from manufacturers of relevant components or subsystems evidence of the ability of their products to run on hydrogen in the future, also known as "H2-Readiness".
The H2-Readiness guideline and the certification of TÜV SÜD can cover a complete power plant with all relevant subsystems. NEM is a manufacturer of heat recovery steam generators and exhaust gas bypass systems, which are used in CCCP to generate steam or hot water from the exhaust gas of the gas turbines. The concept certificate of TÜV SÜD confirms, that the H2-Readiness concept of NEM for the bidding phase of newly built projects complies with the requirements of the guideline and that the heat recovery steam generators (HRSGs) are ready for the use with hydrogen up to 100 percent.
The H2-Readiness certification of TÜV SÜD includes three stages and three certificates. First, a concept certificate for the conceptual design including boundary conditions during the bidding phase; second, a project certificate for the final plant design and its specifications; and third, a transition certificate for the conversion of an existing CCPP to burn hydrogen – including a review of the retrofit measures and their impact on safety and performance.
"This is the first time, that we have issued a concept certificate to a manufacturer of heat recovery steam generators. This shows that our guideline and our certification scheme can be applied modularly by selecting the relevant sections for the evaluation," says Pierre Huck, responsible project manager on the TÜV SÜD side.
"We're proud to be the first HRSG manufacturer to receive this important certification. If we design our heat recovery steam generators today for future operation with hydrogen, they will make an important contribution to a reliable and sustainable power supply in the long term," says Sebastiaan Ruijgrok, Manager Marketing & Business Development at NEM.
The TÜV SÜD certification can be applied to a wide range of solutions. The provider of testing, inspection and certification services has amassed wide-ranging expertise and experience in the field of hydrogen technologies supporting the entire H2 value chain from production, storage and distribution up to application in various areas, such as industrial production, transport or power generation.
For more information on TÜV SÜD services for a safe and sustainable hydrogen industry visit https://www.tuvsud.com/hydrogen.
Media Relations:
Dr. Thomas Oberst
TÜV SÜD AG
Corporate Communications
Westendstrasse 199, 80686 Munich
Germany
Tel.      +49 (0) 89 / 57 91 – 23 72
Fax      +49 (0) 89 / 57 91 – 22 69
Email:    

[email protected]


Website: www.tuvsud.com
Sebastiaan Ruijgrok
NEM Energy B.V.
Marketing & Business Development
Stadhouderslaan 900, 2382 BL Zoeterwoude
The Netherlands
Tel.      +31 (0) 71 / 20 53 600
Mobile  +31 (0) 63 0056 756
Email:    

[email protected]


Website: www.nem-energy.com
About TÜV SÜD: Founded in 1866 as a steam boiler inspection association, the TÜV SÜD Group has evolved into a global enterprise. More than 26,000 employees work at over 1.000 locations in about 50 countries to continually improve technology, systems and expertise. They contribute significantly to making technical innovations such as Industry 4.0, autonomous driving, renewable energy and hydrogen technologies safe and reliable. www.tuvsud.com
About NEM Energy Group: Established in 1929, and worldwide known as NEM, NEM Energy Group is a leading, global Original Equipment Manufacturer (OEM) company in the field of heat transfer technology and exhaust systems. NEM has focused its activities on the Energy busi­ness. The portfolio includes heat recovery steam generators (HRSG), Waste Heat Recovery Units (WHRU), heat exchangers, exhaust diverter solutions, as well as aftermarket services for existing installations. NEM's customized solutions drive a carbon-neutral society in three directions: increasing energy efficiency, flexible operations of power and heat generation, and carbon-free heat transfer.
https://nem-energy.com/wp-content/uploads/2023/11/231030-H2-Ready_Thumbnail.png
1000
1000
News
https://nem-energy.com/wp-content/uploads/2022/08/nem-Logo-no-claim.svg
News
2023-11-02 10:30:24
2023-11-02 10:32:49
NEM First to receive a concept certificate from TÜV SÜD